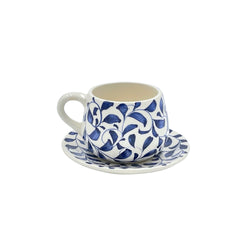 Coffee Cup & Saucer in Navy Blue, Scroll
$55
One of our heritage designs, the Scroll is instantly recognisable in Malta, having been in production since the 1950's. Conceived by Aldo Cremona and passed down over the years, it's a romantic pattern that's full of vibrancy too – thanks to the sunny colourways and busy rhythm. Pair with our Stripes for a laid-back mix-and-match look.
Handmade and hand painted in Malta. Made from Earthenware clay.
Coffee Cup
Diameter: 6.5cm
Height: 6cm
200ml capacity
Saucer
Diameter: 12cm
Height: 1cm
Shop the whole collection of Navy Blue Scroll.
All our products are handmade and handpainted one piece at a time. Due to this process, there may be a minor variances in size, shape or color, from one item to the next. Such variations are inherent in the manufacturing of handmade and hand painted ceramics, but this what makes them so unique.